Solid Axle Industries 07-Up Jeep Wrangler JK SpynTec Conversion Kit
Solid Axle Industries 07-Up Jeep Wrangler JK SpynTec Conversion Kit
This kit will only work with Dana 30 front axles, or a pre-2012 Dana 44 Non-Rubicon front axles, otherwise it will require RCV Performance shafts. The stub shafts use the small 760 / 297 sized U-joint.
07+ Jeep Wrangler JK SpynTec Conversion Kit
Until now, new JK owners have been living with the idea that converting to a fixed spindle front axle wasn't an option. With the implementation of ABS, and the new Electronic Stability Program (ESP), JK owners have been forced to accept the limitations that the unitized bearing front end has to offer. Larger tires and heavy accessories place unwanted stress on the factory assembly leading to an unfortunate and costly failure.
SpynTec Industries has created an option for the JK by adding it to SpynTec new SpynTec line of fixed spindle conversion kits. SpynTec kits restore the ability to service and maintain your vehicle as needed, while reducing the wear and tear to your driveline by allowing for the front hubs to be unlocked. Your ABS and ESP functions are retained with the combination of SpynTec uniquely designed hub and spindle. SpynTec forged hub features a gear cut tone ring, while the forged spindle retains the factory ABS sensor mount. As with all SpynTec kits, your speed sensors are now completely sealed from harsh on and off road conditions. Only the highest quality components from Timken, SKF, Warn, Chicago Rawhide and Spicer go into every SpynTec conversion kit.
Note: Uses 5 on 5.5 bolt pattern, rotors must be bored.
Benefits:
Eliminates unit bearing hub assemblies prone to breaking
Inexpensive to maintain
Fully rebuild-able
Reduces drive-train wear
As always, SpynTec conversion kits fully seal the ABS sensor and tone ring from contaminates on and off road
Increased fuel economy
Kit Includes:
Forged hubs with gear cut ABS tone ring
Forged spindles with integral ABS sensor mount
Includes all bearings, races , seals, and spindle nuts
Premium locking hubs
Wheel Studs
30-Spline Stub Shafts
Installation Directions
For a limited time, rotors are INCLUDED!
Options:
U-joints
Inner shafts
Fully machined front rotors
Complete rear shaft assemblies with tone rings, retainer plates, and studs
All SpynTec Industries hubs start out as steel forgings and not castings like other manufacturers. Hubs are turned and sent off to the gear cutter for the internal splines and the gear cut external ABS tone rings. The hubs are finally bright zinc plated for a dufinish.
Spindle forgings are rough turned, heat treated, then final machined. This is the only way to guarantee a spindle with minimal run-out.
SpynTec Industries has also revolutionized the hub conversion kit market by offering the only conversion kit that seals off the ABS reluctor ring and sensor from the elements and road debris. This is just one of the extra steps we take to provide you with thedesigned lockout conversion kit available in the marketplace.
Rather than sending you a box of parts, SpynTec Industries partially assembles every kit. When your kit arrives, you'll be glad to know that studs and races are pressed in the hubs, spindle bearings are installed in the spindles, and axle slingers are installed on the axle shafts.
---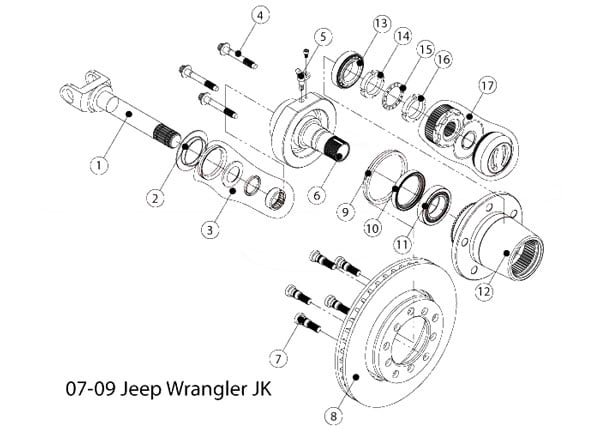 | Item Number | Description | Quantity |
| --- | --- | --- |
| 1 | Stub Shaft | 2 |
| 2 | Axle Slinger | 2 |
| 3 | Spindle Bearing Kit | 2 |
| 4 | Knuckle Screws | 6 |
| 5 | ABS Sensor and Mounting Screw | 2 |
| 6 | Spindle | 2 |
| 7 | Wheel Stud | 16 |
| 8 | Modified Factory Rotor | 2 |
| 9 | Seal | 2 |
| 10 | Seal | 2 |
| 11 | Inner Wheel Bearing | 2 |
| 11 | Inner Wheel Race | 2 |
| 12 | Wheel Hub | 2 |
| 13 | Outer Wheel Bearing | 2 |
| 13 | Outer Wheel Race | 2 |
| 14 | Spindle Nut with Pin | 2 |
| 15 | Spindle Washer | 2 |
| 16 | Spindle Lock Nut | 2 |
| 17 | Lock Out Hub Kit | 1 |
---
FAQ
Why do I need this kit?
The Jeep JK, in our opinion, is one of the best Jeep models to roll down the assembly line. The factory just seemed to get it right with the beefy frame, big wheel well openings, nice interior, and the engine (ok, not really, we're still partial to the inlineUnfortunately, even though they madea pretty strong effort in the driveline, they still haven't brought back factory installed lockout hubs. When you install lifts, bigger tires, heavier wheels, winches, bumpers, roll cages the added stress on the unit bearing hubs leadpremature failure. Until now, the only solution was to replacethe unit bearing when they went bad.
What happens if a unit bearing goes bad?
A few years ago, during the Easter Jeep Safari in Moab, Utah, I personally had the pleasure of waiting around for about 5 hours for another wheeler to run back to camp and get a new unit bearing and shaft. It didn't just need replaced on the trail because of maintenance,because he broke the stubshaft 100 feet down the trail and didn't know it until his wheel fell off. The factory unit bearing relies on the shaft to keep the bearing together. If the shaft isn't replaced immediately, you're about to have a really bad day. It was certainly aday for him. He broke his caliper mount off theknuckle, unit bearing, shaft, and ujoint. The good news is we were on our way again as soon as the parts arrived.
With the SpynTec kit installed you'll be able to simply unlock the hub and replace the shaft when you have a chance. The axle shaft has no functions other than transmitting tourque to the wheel.
Besides strengthening the front drivetrain, what are some other benefits of the JK SpynTec kit?
Of course being able to grease and maintain your wheel bearings is one of the strongest benefits to the kit, but you may also notice that the front driveline vibrations are gone and steering is improved.
You should also see a slight improvement to your fuel economy. Customer feedback has suggested an average of 1.5 to 2.5 more miles to the gallon.
Why does the bolt pattern change?
The pilot hole on your factory wheels is physically too small to allow the lockout hub body to pass through it. The 5 on 5.5 inch pattern wheels offer a much larger pilot bore.