About Us
Poly Performance is YOUR Off Road Parts Source!
With hundreds of brands, thousands of parts, and enthusiasts waiting to take your order today, we are your one stop shop for everything you need to build an awesome off road vehicle!
Who We Are
Poly Performance is a team of dedicated individuals following our passion for building and helping create the coolest off road vehicles on the planet. It doesn't matter what you're actually building, we have the technical expertise and know-how to help. Maybe you're looking to try this "Jeeping" thing out and add some better suspension and armor to your JK Wrangler so you can go out and hit the trails; or maybe you're following your dream of becoming an Ultra 4 racer and competing in the Everyman Challenge with your trail rig. Whether you are adding a couple mild upgrades to set your rig apart from the pack, building a tube car from scratch, or setting up a tow rig that can hang with your race car, we have everything you need. We stock the top names in off road suspension, steering and drivetrain: Synergy Manufacturing, Fox Racing Shocks, Currie Enterprises, Eibach Springs, ARB, King Shock Technology, Carli Suspension, PSC Steering, Trail-Gear, Raceline Wheels, Russell fittings, Jaz Products, Wilwood and more!
Poly Performance has helped customers all over the world build some of the wildest creations you can imagine. Give us a call today for a free consultation and we'll be happy to start working with you to make your visions a reality.

2011-present
2011, Poly Performance celebrates its 10 year anniversary!! 2011 also see's Poly Performance move into its current 10,000 square foot facility and signs a contract with a state of the art cloud based ERP and order fulfillment system.

2005
Poly Performance moves into it's first real dedicated facility, a patchwork of several units in an industrial complex that is far from efficient, but it manages to grow at an alarming pace.
2003
Poly Performance occupies a closet at the back of a local fabricator's shop, and has 1 employee.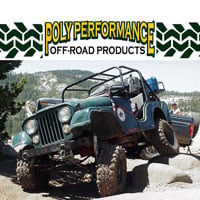 2001
Poly Performance is founded out of a desire to bring cutting edge technology and order fulfillment practices to the off road industry. What started as one man's after hours side project quickly mushrooms out of control.